Driving Force That Supports the Business Models
The driving force that supports the three business models, namely the 24-hour total operation system, 2,000 m2-sized NSCs and SCM, is comprised of "young employees brimming with energy" and "the freshness of standardized stores."
Amid the management environment with increasingly fierce competition, we are committed to continuing to realize our growth strategy by allowing employees who keep improving their skills to play an active role under these business models in our well-organized stores.
[Young Employees Brimming with Energy]
One of the driving-force elements that supports the realization of our business models is "young employees brimming with energy."
The average age of regular employees is as young as the early 30s, and these individual employees will grow along with the development of the Company.
We will pursue the achievement of the Long-Term Vision under the mottoes of "humility," "diligence" and "aspirations."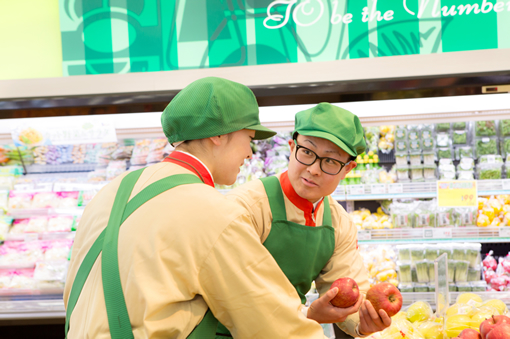 Organizational and Human Assets (Human Resources) Development
Corporations can grow and develop based on the growth of their organizations and human resources. We are continuing our efforts to develop human assets while regarding people as the most valuable assets to build excellent organizations. Systematic plans for education and training are promoted in step with the growth of the Company and its organizations so that all employees can realize their ambitions. The keywords are "creating a company that makes people energetic."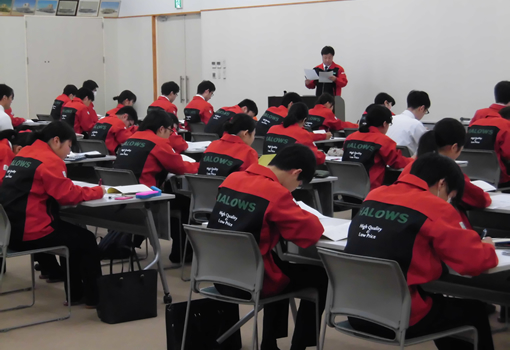 Plans for Education and Training
Halows has put in place a level-based educational curriculum (fiscal years in which employees joined the Company, position or job duties).
The effects of education are heightened by providing knowledge education and skill training in a balanced manner according to the level of the trainees, allowing them to clarify individual goals. In addition, based on the concept that education means to grow up together, we have employed the education method in which senior employees serve as lecturers in much of the curriculum, whereby both trainers and trainees can grow. We aim to become a "company where human assets play an active role" so as to allow all employees to grow into human assets that are responsible for the future of Halows.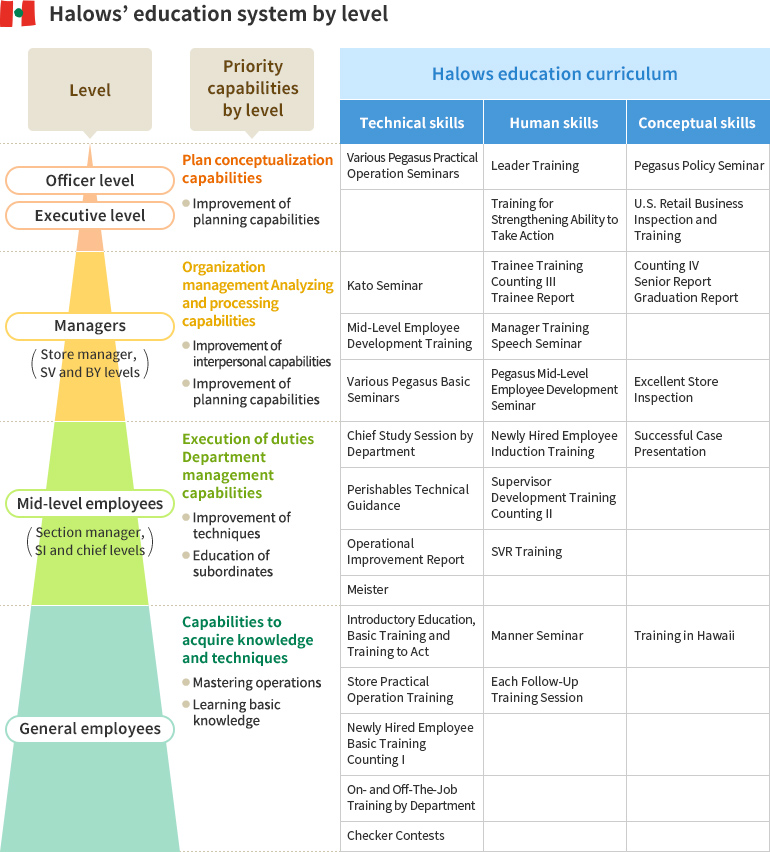 Organizational Development
Organizations also change to achieve corporate growth and adapt to the changing management environment. In addition, new posts are generated following business growth. We aim to develop employee motivation to voluntarily take on challenges by clearly indicating the career advancement model and added posts, while at the same time implementing systematic plans for education and training and scheduled transfers. We will push forward with organizational development even further through "all-hands management" (all individuals participate in part of management).
[Freshness of Standardized Stores]
Each store, with 80% of the store standardized and 20% of it individualized, aims to become the No. 1 store throughout the region, contributing to customer well-being. We are going to establish our advantages as a corporation through developments in which each store exercises their own strengths, and the scale of our business is expanded from each store to the local area and from the local area to the market area. In addition, we will retain the competitiveness of our stores through regularly scheduled maintenance of facilities and equipment.
Standardized Stores
Halows promotes its growth strategy by operating standardized stores. We believe it important to standardize stores to meet the changing needs of customers and secure a competitive advantage over other companies. In addition, we are boosting work efficiency and the effects of employee education through the standardization of sales floors and workplaces.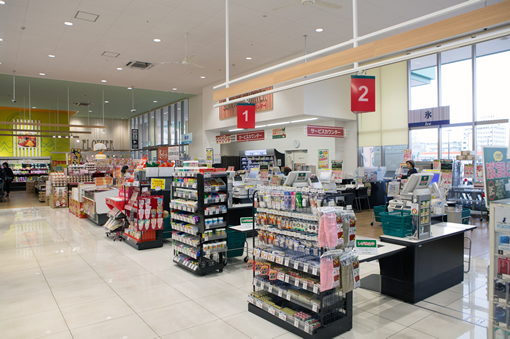 Young Age of Stores
It is necessary to maintain convenient facilities with a fresh and clean impression to allow customers to shop in comfort. In addition, maintaining store facilities will allow us to secure a competitive advantage over our competitors. Existing stores are to be refurbished in a planned manner, taking the number of years that have passed since the opening into consideration, to maintain the freshness of the stores.